others
May 11th, 2011


Do you have an iPhone or iPad?
If so, did you download the app: Angry Birds?
Is your child crazy over Angry Birds?
Mine are!
Keatkeat could draw this out without looking at any reference. The image was so clear in his head!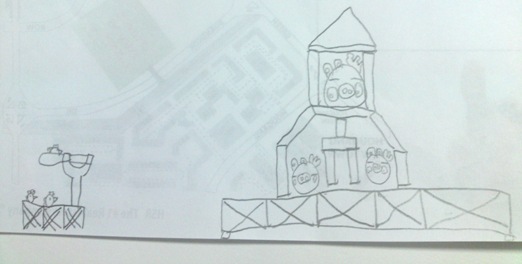 In my previous blog post "Will Your Child Love Jusco too?", I posted this photo of Binbin. Do you know why is his right hand in that position? *giggle*
Yes! Pretending to be the catapult that sets the Angry Birds flying! *laugh*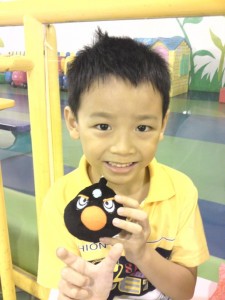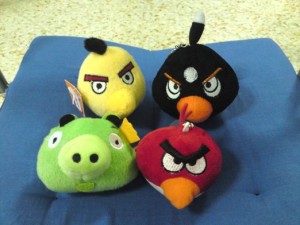 These were their happy purchases:
Black (RM15.90) and Red (RM12.90) from Jusco.
They 'regretted' when they saw cheaper ones Yellow (RM5.90) and Green Pig (RM7.90) at City Square, which is just opposite the Johor Sentral KTM Train station.
Lesson learned. Keatkeat said from now on, he will spend his money only at CitySquare! *laugh*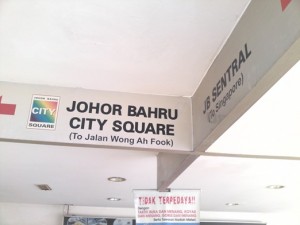 Those below were gifts from my sis and her fiance when the couple went to Korea in March. Before receiving these gifts, I hardly see Angry Birds merchandises. I guess the merchandises that are all over Singapore now, probably flew here in the same flight as my sis! *laugh*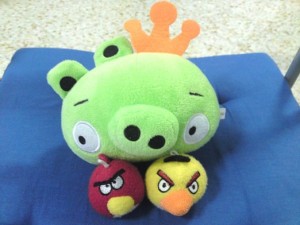 So now the boys are either shooting their Angry Birds at the pigs which they stuffed into the toy multi-storey carpark, or they are watching Angry Birds cartoons and animations on YouTube! *eyes rolled*
Hot Wheels' craze has passed, Welcome the New Angry Birds craze!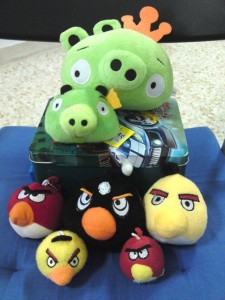 ***With this, ends our story on our first KTM Train Ride experience. Here's thanking everyone who had comforted me because of the terrifying incident which almost cost me my son, Keatkeat. Thank you…

4 Responses to "New Angry Birds"
Leave a Reply