Places Kids Love
As promised, this post will begin with photos of my BIG BIG hotel room in Ngoc Lan Hotel. See Slideshow below:
The photos in this post are way too many to post them out one by one, the loading of my site will either be too slow or it might probably collapse! *faint*
Thus, to prevent that from happening, 90% of the photos will be presented in slideshows.
So be prepared to see many slideshows in this post.
I will only be picking out a few photos for elaboration purposes.
In fact this post should be SPLIT into 2 separate posts, but alas! I had already put 3 parts for day 3. So will have to bite my tongue and stick to it. So, its a warning: This is going to be the LONGEST POST of all! *faint*
My friend who organised this trip for us told us that this hotel room is big…. during the planning stage for our trip, but never did I imagine it to be this BIG! (If you liked whatever that I had been through so far, or thinking of visiting Vietnam, you can contact my friend through his company's main sales enquiry email : hellovietnam@pacifictravelworld.com)
When we entered the room, we saw a living room area with sofa, coffee table and TV. Then we walked through a 'corridor' area and before we reached the bedroom area, on our left was another mini corridor, which has a built-in wardrobe on the right and the toilet on the left.
The bedroom!!!! Wow!
I had measured. The length could fit 4 queen-size bed in a row, without gap in-between of cos! Amazingly long! I am just using the beds as a description of how long the bedroom area is, I am NOT saying that the hotel will allow the guests to put 4 queen-size beds in that room! They would be earning nuts if they do so! *laugh*
Not forgetting the ample walking space at the foot of the bed. So if you consider the entire floor area from the moment we enter…… to the balcony, its SUPER DUPER huge for a hotel room!
Da Lat is well known for its cool weather, its so cold that it could even have hail. So, its good to check the weather first before going Da Lat. Yet, there are also times of the year whereby its cool throughout the day, unlike for us, its cool in the morning, hot in the afternoon and COLD at night.
However, cool or cold has been the trademark of Da Lat, therefore there are NO AIR-CONDITIONING in the hotel room. Rather, there is a heater! It was definitely our first encounter.
So if you remembered how I ended my previous post, you would know that we went back to the room for an afternoon nap and man! It was warm.
We could not open the balcony door to let the breeze in because the sun was shining into the room, so we had to close it slightly. There are ventilating strips on the door, so there is still air coming into the room, it was NOT stuffy, just warm.
[NOTE: As we did not mention anything about this to Lan or the hotel staff, no one knew that we felt warm during our afternoon nap, until we are back to Singapore and we feedback to our friend. Alas!!! He told us that there was a fan in the closet in our hotel room!!!! Oh Man! *slap forehead*]
Anyway, who would want to spend the afternoon in Da Lat in bed right? We were just too tired and badly needed that rest, that's why we chose to spend our afternoon in the room instead of exploring the beautiful city.
It was a short nap, but worth-ed it.
Then we were off to the mountain : Lang Biang Mountain
Perfect Weather, Awesome View!
See 3 slideshows below:
1st slideshow talks about the time when we reached the foot of Lang Biang mountain and was waiting for a jeep to zoom us up to the mountain:
2nd slideshow shows that we have reached the half-top of the mountain. The top of the mountain was not open to tourists. But if you want, you can always go for a hiking trip all the way to the TOP of the Lang Biang Mountain.
Lan was so cute! She kept clicking the multi-shot function by accident when she helped us to take photographs, so we had LOTS of photos that were of little or no difference! *laugh* Whenever I look at these photos, I cannot help but laugh. No no no, I did not put all of them in the slideshow, but just the first shot of the 'series' she took. Or else, my slideshow would take so long to reach the end. *giggle*
In this 2nd slideshow below, the Landrover that we were on with the kids holding fake rifles was a non-moving vehicle stationed there for photo-taking.
Visitors have the option of taking professional photographs or using their own camera. With additional cost, visitors to Lang Biang mountain can also wear army uniforms and hold guns for more 'pro' photography moments.
We just opt for the most basic, whereby we paid the least.
Got the guns as props and took shots with our own camera phones.
It was good enough for us.
If you realised, Binbin was enjoying the cool breeze that combed his hair and the cold wind that swept across his face; unlike Kitkit, who was folding his arms or tucking his gloved-hands into his tight jeans. "Bbrrr…cold…." That's all that he kept saying. *laugh*
I asked Lan to ask the staff governing the stationed-Landrover on the estimated temperature we were experiencing and he said it should be around 15 to 16 degrees! Awesome! *clap clap clap*
The 3rd slideshow was our journey down the curvy slope.
We were the LAST BATCH of tourists to leave the mountain top. After the photo-shoot, no other jeep was around except ours. But the driver was missing!!!! How are we ever going to get back down??? And the sun was setting!
*jaws dropped*
But with our capable tour guide around, we have nothing to fear! *laugh* So while Lan went to look for the driver, we were having fun taking photos in the empty Jeep.
The driver did not speed up the slope when we went up the mountain because he was afraid that our children might not be able to take the bumpiness. But my kids were actually looking forward to a bumpy ride. *bleh*
And their wish came true when we went down.
As there were no more jeeps coming up the opposite direction, the driver went much faster down then he went up. Cool!
I tried taking a video of our journey down. But when I watched the video again, I felt really giddy because of all the vibration. So I decided to show photographs instead. Some of the bends were pretty sharp. So it was an exciting ride for all of us. *Grin*
What a ride!
*phew*
It was way too early for dinner, so Lan thought I might be interested to visit a Catholic Church, knowing that I am not a Buddhist. But I'm not a Catholic either. I did not know how to tell her the difference between Catholic and Christian because of language barrier.
So I just take it as a site-seeing visit into the Catholic Church and to let some time pass too, hoping that once we had circled round the church, it would be dinner time.
If you noticed, there had NOT been many or in fact no visiting to signature landmarks or buildings or structures as we did not like to include that into our holiday trips. We prefer to be in ACTION all the time, taking rides, tasting different food and doing hands-on stuff.
It is truly a blessing to know that Allan's friend had set up this tour agency in Vietnam, so that he could customise our trip to Vietnam according to our fancy. *Thumbs Up*
It was still too early for dinner, but we had no where else to roam in the vicinity, so Lan brought us to the restaurant earlier than planned.
SERIOUSLY!!!
Other than the lunch we had at Cu Chi Tunnel on the second day, every meal was a thrilling journey for our palate.
This dinner at Da Lat was NO exception either.
The marination of the different types of meat was superb!!!!
We REALLY filled our tummies to the max!
But it was still not good enough.
The quantity was way too much for the four of us, especially with 2 don't-eat-much-kiddos at the same table.
We tried asking Lan and our chauffeur to join us at every meal, but they prefer to let us enjoy our meal on our own, so we had left-overs again.
*sigh*
It was here that I learned something new. Lan told me that the Vietnamese do NOT peel the banana like how we do: from top to bottom.
This way of peeling is consider rude in Vietnam. They would BREAK the banana into two or you can say they will 'half' the banana and then eat one section first before eating the other half.
Its good to know!
But it was a little too late for my fruit prince who was already biting into his banana. *giggle*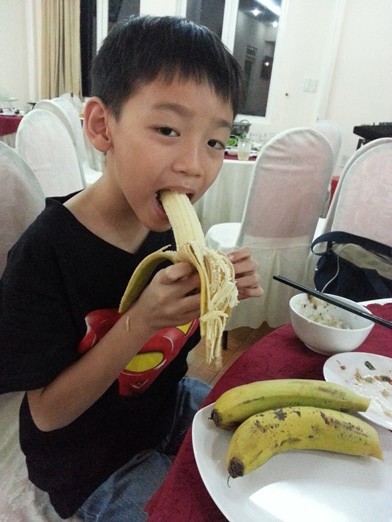 Usually people would say that they ended their trip with a bang, ours ended with a GONG! *giggle*
We did not only WATCHED the Gong Musical Performance of the ethnic group, which Lan kept calling them "the minorities" in Vietnam, Allan WAS PART OF IT TOO!!!
Over here in the first video below, visitors' (mainly tourists) names were called out by the chief and each were told to hold a flame of torch to start the performance.
You would also see a tall man walking over to talk to Allan occasionally in the video. He was the colleague I mentioned earlier in another post, whom we met at the Seafood Restaurant in Ho Chi Minh city, who took another group of Singaporean family there to have their dinner too.
So, since we had met previously and had a few small chats before, we were strangers no more.
Allan was already shocked that they called his name previously. Then the chief called his name again!
This time he needed to dance together with the performers and other visitors too. *giggle* Something very new to him, but he was willing to go all out, unlike me. *bleh* I just don't like to dance in public.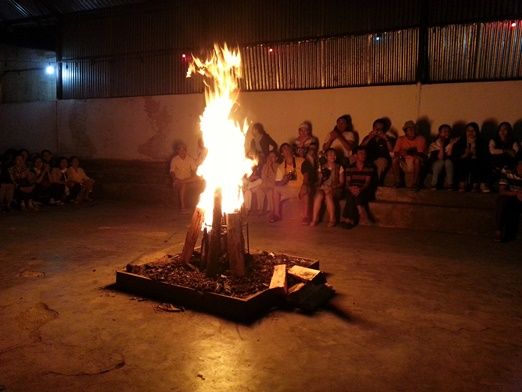 Luckily he is in white top, easier to spot him in the video below. *wink*
They had dancing, singing and musical instrumental performance, but after some time, due to our lack of understanding of the language, we got bored, especially the kids, who started to fidget on the wooden bench and everyone on that same plank could feel the movement.
So we decided to leave before the show ended and head over to Lan's parents house.
I LOVE to see how the locals live whenever I go to another country. Their house, the food they eat, the way they go through daily life. But usually these are hidden from tourists. So I was thrilled when Lan promised to bring us to her parents' house when we were watching the kids fishing during our Cu Chi Tunnel visit.
Her parents MAKE SOCKS to sell!!!!
Not so much of for livelihood, but more of trying to pass time.
They are living fine even without selling socks.
But they prefer to have something to do, than to laze around everyday.
This was the first time I see SO MANY SOCKS IN A HOUSE!!!
Their ground floor was their workstation where there are socks-making machines and tons of threads to make socks.
While the ground floor was piled up with ready-made socks and thread, the top floor was clean and neat, it was their home. I did not think it was appropriate to take a photo of their living room and post it up here for all to see, so the photos I had were their work-space: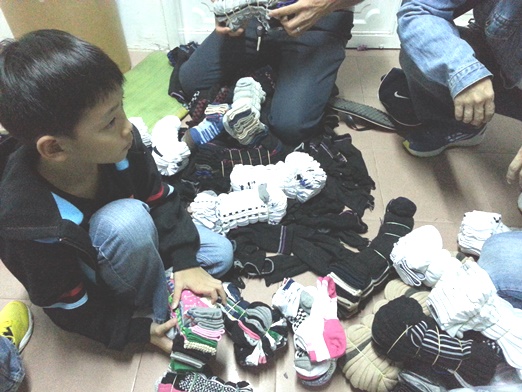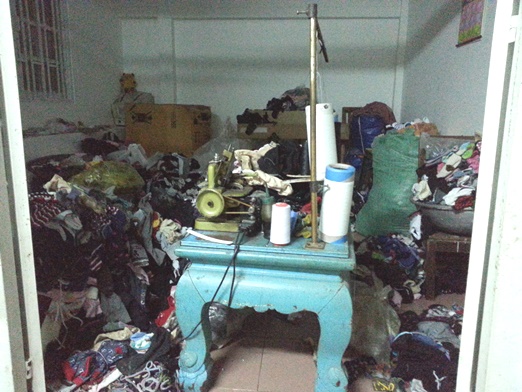 We had a nice chat with Lan's parents and Lan was also eager to show her parents the photo of the Goddness I took at the temple in the previous post. They said I was a lucky girl too. *giggle*
After buying many pairs of socks from them, we said thank you and left. With that ended our Da Lat trip.
Lan did not follow us back to the hotel, we did not think it was necessary too. So Mr. Ting brought us back to the hotel and we had a WONDERFUL cooling night rest in our HUGE hotel room.
It was so COOLING! First time ever, to sleep in a hotel room without air-conditioning and yet it felt like it was 16 degrees! *Super Thumbs Up*
The music from the pub opposite our hotel gave Allan, the super light sleeper, some issue in falling asleep, but for me, it was music to my ears……. and I, like the kids, fell asleep in no time.
Next morning we checked-out and headed back to Ho Chi Minh city again…
but THAT will be in the next post.
Truly, this is the LONGEST POST for my trip to Vietnam, over 2 thousand words!
*faint*
Copyright © 2007-2016 All About Your Child. The contents on this blog are the sole property of the author, Angeline Foong, and may not be used or reproduced in any manner without consent. All Rights Reserved.
No Comments »