Special Moments
November 2nd, 2008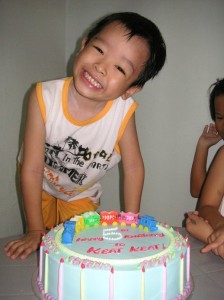 Thank you (everyone) who have read Keatkeat's toughest challenge during his 4th year on earth… he is a Conqueror! *Clap clap clap* Let's hope this year will be a better year!
Today we celebrated his 5th Birthday! Happy Birthday my first Child! THIS IS HIS VERY FIRST PARTY. We didn't have the money nor the time in the past to give him, how sad…. hmmm… this was how we celebrated his birthdays IN THE PAST.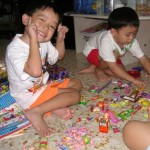 The preparation-madness started last week.
This year, his classmates doubled from last because they combined the class in the morning session with the afternoon session, we didn't bother to ask why.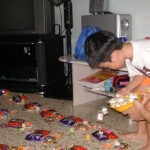 On Thursday night, we prepared 27 goodies bag for his classmates.
Distributing the yummies to the 27 'sections' on the floor.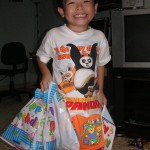 And finally putting them into bags…tough work. *Phew*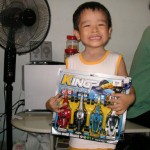 In returned, he received these 4 F1 racing cars from his teacher ~ Mdm Normah. Allan and I was shocked. We didn't expect that at all! Last year, she just gave him some stickers.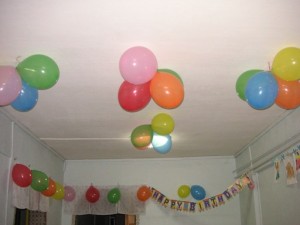 This was what TODAY at my house. Big Party!
I'm glad Keatkeat was happy and came over to say "Mommy, Thank You!" at the end of all the fun.
Boy, my back hurts after preparing all the food and CLEANING after the feast… *pant*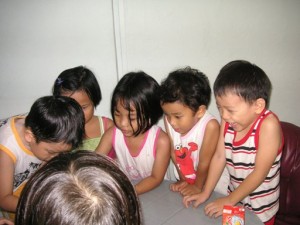 But that sentence made all the pain disappeared. *Big Smile*
Look at how happy Binbin was! (extreme right) He was laughing at his brother playing with the train on his cake.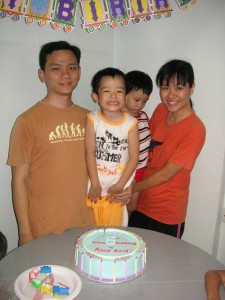 Then he attempted to try it himself. He pressed the last cabin of the train INTO the cake. That's when I raised my voice at him. There's 'big' pride in that 'small' body. He ran to the room and cried. I 'tricked' him out and ended up having this imperfect family photo….hmmm…just look at 'that' face of his! Such a big contrast from the previous photos.*sigh*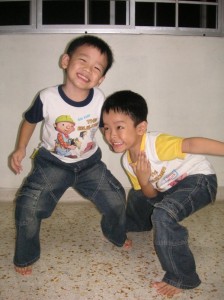 Keatkeat finally had his very FIRST pair of jeans, given by my sis and her boyfriend. My sis's boyfriend pity Binbin for not having it and he bought a pair for him too! How lucky! Here are they, posing right after they came back from the shopping centre last week.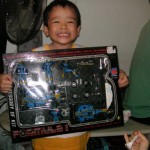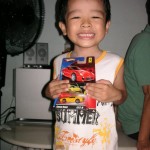 On top of this, my sis and her bf also bought these for Keatkeat – A Ferrari Pit Stop Set and another Hot Wheels to add to his collection.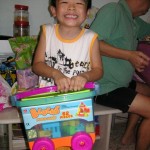 Building blocks were given by his dad.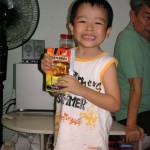 Binbin gave him a mini-tow truck, good enough to hook his Hot Wheels collection. Keatkeat's favourite vehicle is a tow-truck and he wished to be able to drive one in future. *wink*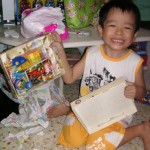 My second niece, ZY gave a box of treasures, a mixture of stationeries and fun stuff.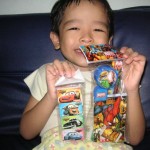 My eldest niece, CH gave Cars and HotWheels stationeries.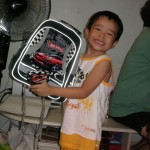 My eldest BIL & SIL gave him HotWheels backpack and pencil case.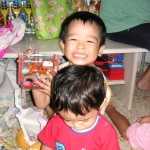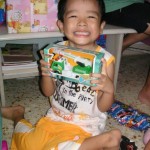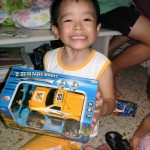 My second BIL & SIL gave these 3 – Mater, another tow truck and a remote control car.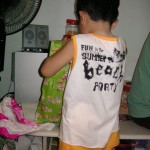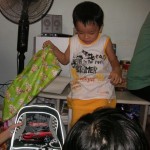 And the outfit that you have been looking at so far was given by my cousin, Corina. Here's the shots of the front and the back of the shirt.
What a day! Kids' Birthday Parties are fun for the children but extremely tiring for the adults!
His 4th year was the toughest year for me, as a Mommy. Lots of 'complaining' posts about the big change from the Angel at 3 years old to a Rascal at 4 years old.
Other than the change in behaviour, I've got to battle with his illnesses – Brochitis, Hives and Sinusitis which was THE worst struggle I had with him, which 'inspired' me to write the 3-Day long post (ended yesterday). That IS truly the most memorial 7-month long ordeal I had with my first born!
Happy Birthday Keatkeat! Today is definitely a day to rejoice for more reasons than one.
27 Responses to "Keatkeat, Happy 5th Birthday!"
Leave a Reply