Places Kids Love
November 4th, 2013
Amazonia is currently standing on the top of my list of indoor playgrounds which I had visited so far in Singapore. We had a roaring good time when we celebrated Kitkit's 10th birthday there. Clean and comprehensive was what I liked, however, not only was the fun factor ranked 1st, price too! In my opinion, the price was steep! Will share the rates as we go along.
Located on the top level of Great World City shopping mall, the place where I rented my very first pushcart and started my pushcart business. Though many things have changed since 2002, entering the carpark still puts a grin on my face as great memories flood my mind.
Ooops! Sorry, went off topic. Ok back to the indoor playground.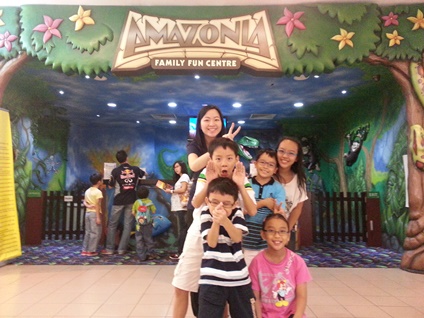 No payment is required before entering the 9500 sqft family entertainment centre. Its truly a 'family place' ~ for the young and the old, 'cos I had so much fun, considering I'm the 2nd oldest in the group of 9 that day. 4 adults and 5 kids.
That's my sister with the enthusiastic kids at the entrance of Amazonia (above). Just in case you are new to my blog, none of the kiddos belong to her and only the 2 elder boys are mine. The girls and the youngest in the photo are my nieces and nephew.
An 'Amzonia credit card' was given to us and we were supposed to used this single credit card for any purchases made inside the premises. Payment is made only when you decide to leave the NOISY indoor playground. We went on 2nd November 2013, Saturday. Its a weekend, so you can imagine the NOISE LEVEL! *Scream*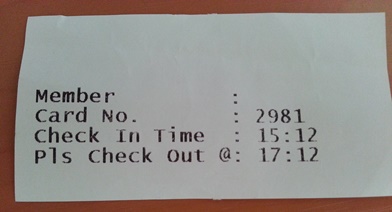 Everyone is limited to 2hours per entry. Once it exceeds the 2nd hour, additional charge will be imposed for every 30mins thereafter. Was 2 hours enough? In my opinion, if you are NOT going into the 2 'Chargeable Sections', yes, 2 hours is enough. However, we went for EVERYTHING in Amazonia, be it Free Section or Chargeable Section, 2 hours was a little tight.
NOTE : Wearing SOCKS is a MUST! So please REMEMBER to bring your socks!
Ceiling high shelves stacked with souvenirs stamped with Amazonia on them greeted us after we passed the gate. Kids were interested (as usual) but adults were not! *laugh* So I hurried the children to put their footwear on the shoeracks provided and off we went to the area where the real fun began. That's ALL of us, plus me behind the camera on that day (photo below).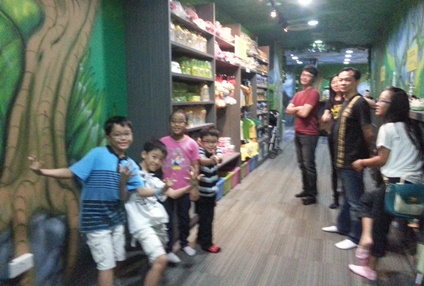 Basically the place has 6 sections and NOT all sections are FREE to use, unlike all the other indoor playgrounds which I had been to for the past few years. Here are the 6 sections:~
Jungle Play Gym
Toddler Play Area
Party Room
Space Ball Room (Chargeable)
3D Glow Golf Putters (Chargeable)
Bistro
Many photos in this blogpost will be presented as slideshows, which I know that several mobile devices does not support, so you will need to get back to your desktop or laptop to view the photos. I apologise if that frustrates you as I do not want to slow down or potentially crash my site because of the number of photos it had to load. So accept my apologies, won't you? *wink*
1. Jungle Play Gym
The place which I think I had over-strained myself, 'cos I was aching all over the next day, but I must say NOTHING makes me happier than to be able to PLAY like there's no tomorrow, with kids I love dearly.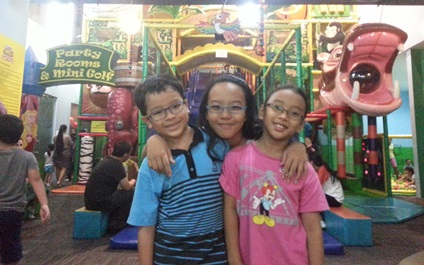 I promised my SIL to take extra care of her youngest child, so I was prepared to watch him like a hawk.
However, when I saw the gigantic tall slide, my playfulness nearly overruled my responsibility.
"WD, let's go take the slide!" I squealed!
With face gone slightly pale, I think he was overwhelmed by what he saw, as he hardly have chance to go to such places, he protested, "No. Don't want. I'm scared."
Aawwww….
I tried again, "I will slide down with you, you'll sit infront of me and I will hug you tightly, ok?"
"NO! I'm very scared." he was really terrified.
Aaawwwwww……..
I had to be honest, my heart sank.
The other 4 were waiting for me to try out the slide and crawled in the 400m sqm, 6 storey high play area, with the 8m high wave slide and lots more……but I had to turn down 4 to give my 'body' to the youngest.
"Go play, the 4 of you, I promised to take care of WD." I said.
*pout*
I watched the 4 scrambled their way into the upward-maze-like-gym, while I brought WD to the ball pool, where he went crazy trying to get the balls through the holes. It was hilarious watching him play because he could not aim and after countless tries from afar, he decided to walk to the target, tipped toed like a ballerina and popped the colourful plastic balls in. Even with his pointy feet, he still missed a few! *huge laugh*
Oh well, I was starting to enjoy spending time with WD as I cheered and clapped with his every attempt. Was really comfortable sitting at the corner of the ball pool, which are super-lack-of-balls as compared to other indoor playgrounds. So I had no problem sweeping the balls away and finding the ground to lay my butt. There I sat, trying to capture the cute actions of my active nephew, which was really difficult! Most of the photos turned out blur on my phone camera. *pout*
Just then, the other 4 kiddos came looking for me, wanting me to explore the entire place with them.
*scream*
I'm so torn!
In the end, I 'summoned' Allan to take over my shift.
At first, my idea was to get Allan to play with the 4 older children, but the 'old man' prefer to lay low and stay with the youngest of the pack at the ball pool.
Yeah!
*clap clap clap*
I can finally try out the tall TALL Slide!!!!
Whoo-hoo!
I forgot how many times I went.
I just know that I loved it!!!
There were 2 other tube slides on the upper deck.
It was more exciting as it was swirled, so you cannot see your landing till you LANDED; and if you have a heavy butt like mine, you will land with a thud!
*laugh*
Remember to keep your arms crossed on infront of your chest as you slide down the tube slide. Just an action of precaution because my experience at Kidz Amaze really FREAKED ME OUT! Well, I was not sure if the quality of the tube slide here is as bad as the one in Kidz Amaze.  Go read, if you are keen to see my kid's bruises and mine too after our visit to Kidz Amaze. "Kidz Amaze – Would I Recommend?" and "Skin Abrasion is So Painful! Ouch!"
*Shaking off the unpleasant memories that still makes me cringe!*
Ok, back to the happy moments at Amazonia.
Crawling and wiggling in and out of tunnels were fun for me too.
It was SERIOUSLY sweaty fun after all those bending and stretching.
I pity the ones who get to 'smell' me as I passed them.
*hide face*
The Jungle Play Gym in Amazonia is great for kids between the age of 3 to 12 and BIGGER kids like me at age ___! *laugh*
However, if you have toddlers or kiddos who are still trying to find their balance with every step they take, then the TODDLER PLAY AREA would be more suitable.
2.  Toddler Play Area
I know these 3 cheeky ones are were overage for this play area, but they just want to make sure that they did not miss out any part of the indoor playground, so we were there for less than a minute, took a few snaps and we left the small section.
It was also at this place that I realised my youngest niece is inclined to musical stuff. The moment she saw the floor piano, she exclaimed, "Shenshen, I know how to play 'Twinkle Twinkle Little Stars'!" But she could not show off her skill as there were guardians and mummies sitting on some of the keys. Oh well, I'm sure she will have the chance to show me again, maybe on the piano phone app? *wink*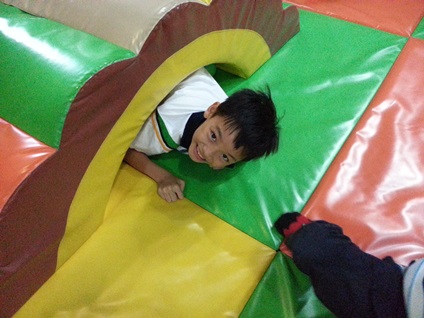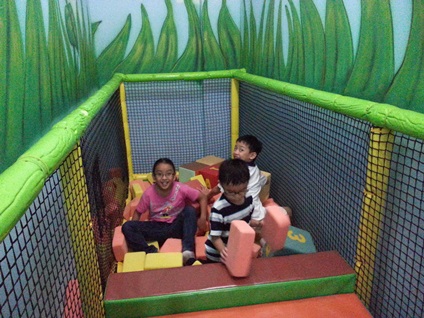 I did not take any photos of the Party Room, as I was too busy trying to keep track of the time and errrrmmm… too busy playing as well! *laugh* So far its all good fun without hurting the pocket further.
Nonetheless, to enter the Space Ball Room and 3D Glow Golf Putters, you will need to search deeper into your pockets for more $.
4.  Space Ball Room
It is a PRIVATE ROOM whereby you will be LOCKED INSIDE. This part was pretty upsetting, will explain further later. You will need to pay $5 per child and you are only allowed to stay inside the room for no more than 5mins as ALL the shooters will be shut off automatically after 5mins.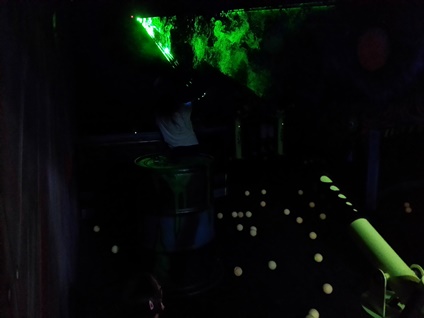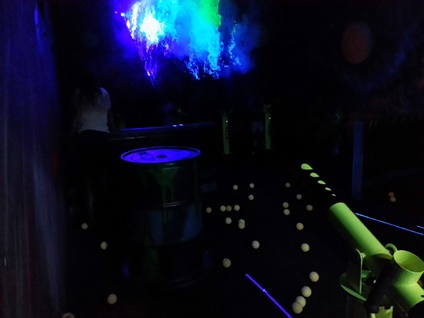 In almost total darkness and being there for the very first time, we wasted time trying to figure out how things work inside.
We did not know that there were two lanes of shooters facing each other, meaning two different groups and the score board was mount on the wall.
Please?? Its dark!!! Try figuring out an unfamiliar place in almost total darkness! *humph*
Well, now you know the layout, you need not waste time and can get to shoot immediately the next time you are there, so thank me? *giggle*
As mentioned, we did not know! So all the shooters were taken on one lane and the other lane was left with Allan and my 2nd niece only, hence explaining the score board below, which was totally 'OFF Balance':~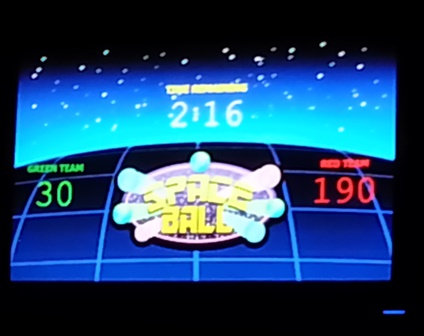 Then I saw the TIME ON THE SCORE BOARD!!!!!
OMG! Time flies when everyone is so happy.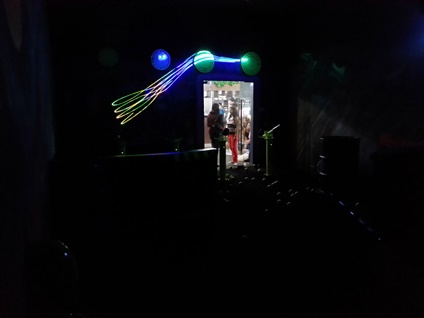 Oh well, not sure if its the same for others, but we WERE LOCKED inside with no staff near us! After 5mins, the shooting machines were shut off and we had to keep knocking the glass door to catch attention of parents standing outside. AS the room was in almost pitch black with moving neon lights painting the walls of the room, seriously, no one noticed me behind the glass door. Then I saw a switch box and started tapping my fingers on it, hoping that it would be the switch to turn on the lights in the room.
BINGO! It worked!
The sudden brightness of the room definitely caught the attention of EVERYONE outside.
Finally, a nice father went to alert the staff to FREE us from the being captured in 'Space'.
Hooray for the nice father!
Thank you!!!!!
The photo below was taken after I accidentally found the switch box and turned on the lights.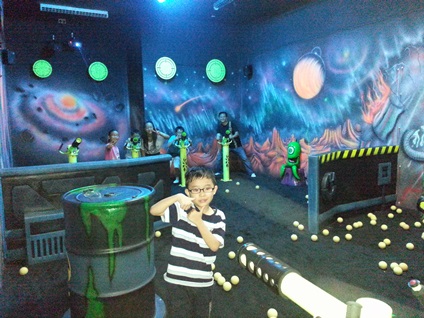 After the lights came on, I finally can SEE what my hip knocked onto, the two 'half walls' in the middle of the room!
Maybe its my high myopia or my astigmatism, but moving around the almost completely dark Space Ball Room was really difficult for me.
To pay $5 per child for 5 mins, is definitely the first and the last for me.
Even BEFORE I handed over the Amazonia credit card to the cashier, I was already feeling the pinch, but its Kitkit's birthday and I wanted him to be happy all the way! Oh well, so in the end, I just went ahead and swiped the 'Amazonia Credit Card' at the cashier counter where you can also order your food and drinks, which I will talk about later.
You will need to inform the cashier of the number of kids entering the Space Ball Room and pay first before a staff will open the door for you to enter the 'dark room'.
Since my mind was made up, I might as well give my all eh?
No holding back!
Thus, I paid for another Chargeable Section in Amazonia : The 3D Glow Golf Putters
5.  3D Glow Golf Putters
I have no idea how big is the Private Room for this 3D Glow Golf Putters as the door was shut and opaque and without any viewing windows.
The staff told me that each kid will be given 2 golf balls for the entry fee of $9 per kid and when the golf ball drops into the hole, your time in the place will end as the ball will not be retrievable.
Immediately, I thought, "So in order to play longer in the 3D Glow Golf Putters room, the kids must NOT be accurate!!??
But if the kid is so accurate, as in first shot in the hole, then the poor kid will not get to play anymore?!
This totally contradicts the real game of golf, isn't?"
*Huge Laugh*
I did not want the kids to be caught by surprise : game ends when they aimed well. How ironic!
I was apprehensive and discussed the situation with the kids first before I swiped the 'Amazonia Credit Card' again.
They understood and remained excited about it.
So I went to the cashier counter and handed over the 'Amazonia Credit Card'.
$8 per kid.
Well, I was happy to know that its not $9, as said previously by the other staff.
Then the cashier passed us 1 golf ball only!!!?
Oh no!
I told the cashier that his colleague told us that it was 2 golf balls and not 1.
I do not know who is correct but after a few more words with the cashier, he reluctantly gave each kid 2 golf balls.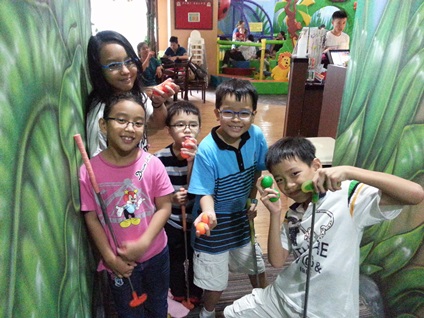 Note: So for this part, I am not sure as to how many golf balls will be given for the price of $8 per child. Good Luck!
My sister followed the 5 kiddos and I into the room, while the men (Allan and BIL) had their men's talk at the Bistro. Its pretty dark inside but the amount of light here is definitely much better than the amount of light in the Space Ball Room. I had to keep trying different settings on my phone camera before the humans eventually showed up on the screen. *pout*
Can you see the birthday boy taking his aim in the picture below?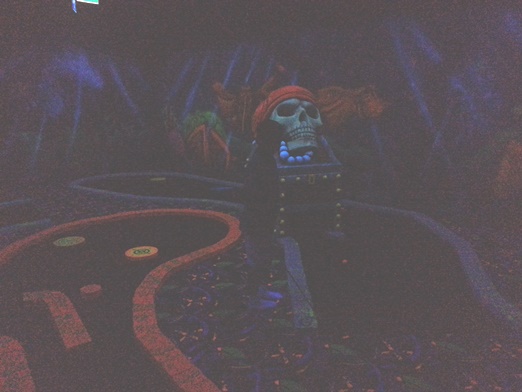 No?
Ta-Da! Here he is with the flash on!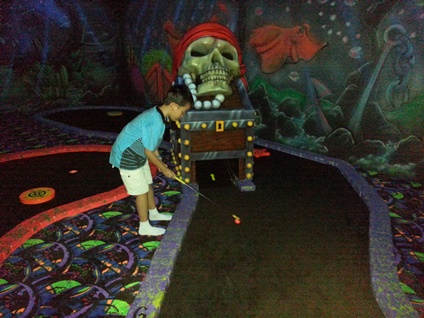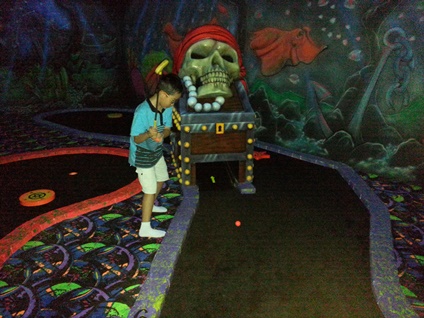 In the end, the kids were more excited about the glowing statues and fixtures in the room then actually aiming for the hole.
In fact, out of ALL THE HOLES in the room, ONLY 1 HOLE is deep.
Meaning ONLY IF the golf ball drops into THAT PARTICULAR DEEP HOLE, then it will be irretrievable. Other than that particular deep hole, ALL OTHER HOLES are not deep and your child will be able to pick up his golf ball again and move on.
Gave a Big Sigh of Relief after knowing this!
The photo below shows "the unforgiving hole". *laugh*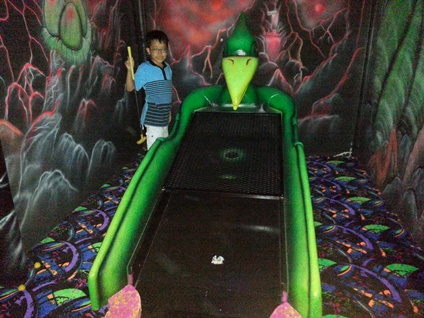 We took several shots, both photos shots and golf shots, here. However, my phone camera does not perform well under low light, thus only a fraction of what I took reflected in the slideshow below, as some of them were way too dark or too blurry.
 6. Bistro
Ok, last but not least, the section where you quench your thirst and fill your tummy.
The price of the food sold here are also on the high side, so be prepared.
Having said that, maybe its reasonable pricing to you, so don't fret.
Too many of us and we had to occupy 2 separate seating.
My sister, BIL and 2nd niece sat at the back, while the younger ones sat nearer to the screen.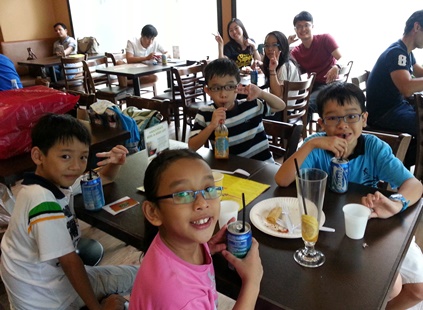 The above photo was taken before the 2 hours was up. I HAD to replenish their 'fuel' slightly after an hour there. *wink* I wonder if it was the drink or something else which made my little nephew changed his mind about the slide.
He came to me voluntarily after his drink and said, "Shenshen, promise to hug me very tightly as we go down the slide together ok?"
Yeah! Hooray!
My boys know how happy I would be whenever they pluck up their courage to do something which they dare not.
It also cheers me up when I see children DARE to experience things which they have not seen or tried before.
At that moment, I felt so happy to know that my nephew was willing to Act In Spite of Fear!
Good Job, WD!
*Thumbs Up*
Immediately, I asked my sister for help in capturing WD's expression as we went down the TALL Slide, but I forgot to tell her to take the photos in landscape format. My blog has some issues with photos taken in portrait format, so you may see the 3 photos below lying on their side. Different devices shows the images differently. Sorry.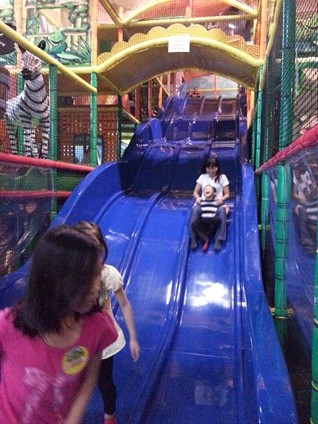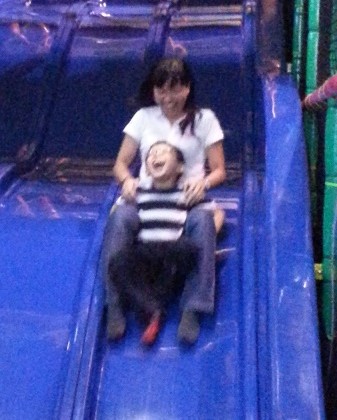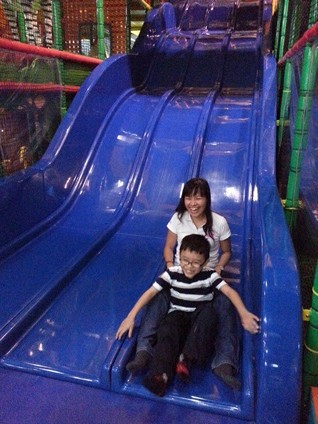 He was so happy and funny at the same time!
The 6 year old said: "So scary! Very scared….very scared…..But I want to slide again!!!"
*laugh*
And so we went again….together…in the same way……
Happy times zoom like a rocket.
We started to gather everyone when it was 17:02. 10mins before the time was up.
It was then that Kitkit said, "Mummy, I want to take a photo with everyone, one at a time. So that I can remember who celebrated my birthday with me at this fun place."
Such a simple wish, how can I not grant it?!
Here's everyone in the slideshow below:
Before I end this post, here's the damage for that 2 hours at Amazonia.
Was it fun?
You bet!
Would I recommend?
Definitely, at least once in your lifetime!
Value for Money?
You decide.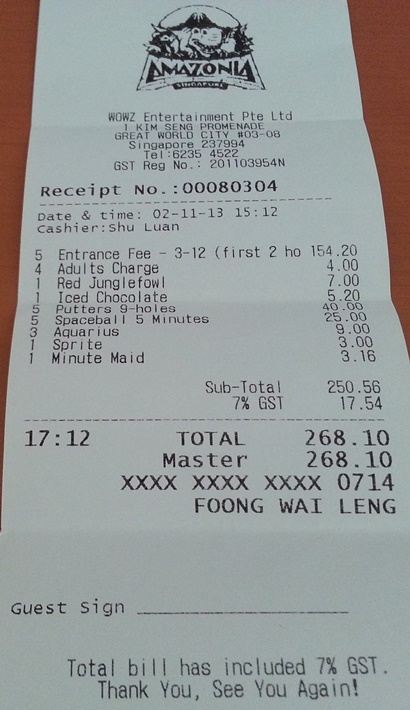 Amazonia – Indoor Playground in Singapore
Leave a Reply