Places Kids Love
June 28th, 2010
Today, school re-opens! YEAH!!!! But before the kids bury their heads under books, they had hours of fun at The Polliwogs on the last day of school break. All thanks to LZMommy who mentioned about The Polliwogs over at the post 'Happy 5th Birthday Binbin'.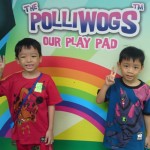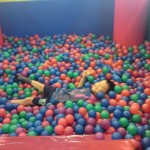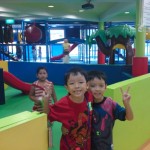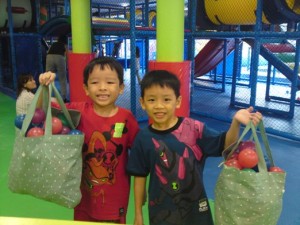 The Polliwogs provides mini bags for children to go 'Ball-Shopping' *laugh*
Both were trying to fill as much balls as they could without letting any ball escape. With 2 separate ball pool, there are LOTs of balls to go around. *giggle*
We had tried Go Go Bambini, Peek-a-Boo and now The Polliwogs. The Polliwogs is soooo much bigger!!! It has indoor play area and outdoor too! The only setback that day was, even after mopping, the outdoor play area was still pretty wet after the heavy downpour on that Friday morning. But hey, who cares about those tiny puddles of water, the children just went crazy in and out of The Polliwogs! *laugh*
The INDOOR:
We did not get to play at the outdoor the moment we arrived because we were waiting for the staff to mop the bigger puddles of water. We get to go out only after spending 2 hours indoor.
So while we were waiting, the kids decided to have an ice-cream break while I claimed the FREE COFFEE. Every receipt entitles you to a FREE Coffee or Tea.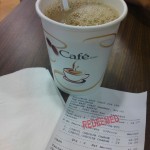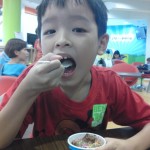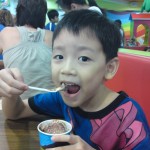 The OUTDOOR:
The charges for The Polliwogs are in the midrange between the previous two indoor playgrounds which we went. $16 for children on weekdays with unlimited play. And $2 More for weekends and public holidays with 2hour play. Adults enter for free. Just like the other two, please BRING YOUR SOCKS!
We went at 1pm and stayed till the friendly staff shoo us off at 7pm. *giggle* 6 hours!!!! We are madly in love with The Polliwogs. Operating hours are from 10am to 7pm on weekdays and extended 1hour on weekends.
If I am 'forced' to say something negative about The Polliwogs. Well, my boys and I did have scratches and cuts when we came down the spiral slide; which we did not have such 'Ouch' experience in the other two places. Other than that, the 3 of us were like big and small hamsters, crawling all over the place, having fun at The Polliwogs. *Grin*
6 Responses to "Children Having Fun at The Polliwogs"
Leave a Reply