Special Moments
March 30th, 2010
This year, Binbin had one of the most 'Over' birthday celebration. In total, it was a 5 parts mini-celebration for him:
Part 1: 27th March at his cousin's 9th birthday bash.
My niece's birthday falls on the 29th and Binbin's on the 30th. Thank God, they were NOT on the same day, or else, (personally I feel) neither of them will feel special on their birthday, 'cos its being shared.
This video images are very dark, I apologise.

Over at the chalet (read previous post), Binbin received his presents from all his wonderful uncles and aunties. Because the givers always like to see the expression on the receiver's face, thus the presents were opened on the spot, even though it was not his actual day.
===========================
Part 2: 28th March at MIL's house.
This was an extremely last minute decision. We did not plan for this due to Allan's pre-scheduled appointment. It was however canceled in the morning and thus we decided to get a off-the-shelf cake and head over to my in-law's place for a mini-cake-cutting session.
========================
Part 3: 29th March at home.
As per our own tradition. Cake cutting session is always at midnight. Since Binbin's birthday is on the 30th, the blowing of candles is naturally on 29th midnight.
After which, it was another round of unwrapping of presents.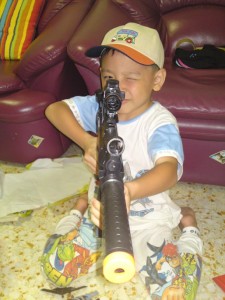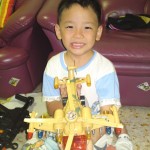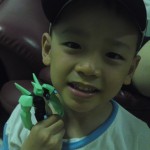 The Hat from my sis, the gun from my sis's bf, the helicopter from Papa and Diamond head from Keatkeat.
Did you notice? We had been having cakes for 3 days in a row! And we are celebrating my nephew's birthday this Sunday, another cake to go! *faint*
===========================
Part 4: 30th March Noon at Peek-A-Boo
Yup! It was a promise not forgotten.
We did promise the boys to bring them to Peek-A-Boo again on their birthdays. That place is indeed a charmer.
This time, less photos, more play. If you want to have a better view of every corner, go read another post here.
So while Keatkeat was in school today, Binbin, Allan and I were climbing up and down, in and out of tunnels. Though Allan and I had occasional bumps here and there, it was still Awesome Fun!
==============================
Part 5: 30th March Night at Sakae Sushi @TradeHub21
Because of that blog post, I came in top 5 and won a $50 Sakae Sushi dining voucher.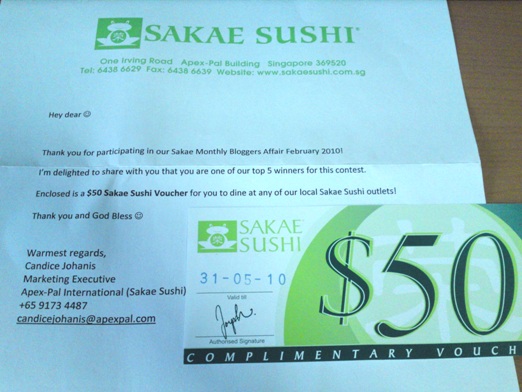 What better way to celebrate Binbin's birthday than to bring him to his dining heaven. *wink*
In the end, with the voucher, we 'almost' had a free meal! *Massive Grin* Nice!
So that ended Binbin's 'A Little Over' birthday celebration this year. *wink*
Happy Birthday To My Little Cutie!
20 Responses to "Happy 5th Birthday Binbin!"
Leave a Reply