Places Kids Love
I know it would be nicer to blog in sequence, however, this 6th visit to Legoland would be one that I would not forget, I'm sure.
Thus, here I am, skipping the blog post for 3rd, 4th and 5th visits to Legoland Malaysia, just to get this post out first.
The moment the kids knew that today would be a school holiday due to PSLE Listening Comprehension exam, we had already decided to go Legoland Malaysia again for the 6th time. Actually, this is the 7th time! However one of the trips was purely to shop for Lego Bricks, therefore no rides were taken that day, so I chose to leave that post out.
Today, the kids were excited to get new additions to their Lego Collection and be on some of their favourite rides in Legoland.
Sad to say, Kitkit's excitement was short lived.
We reached there at about 4pm and they decided to go shopping first since there were NO crowds.
All was well at first.
They were busy choosing from the new selection of Lego Bricks and were having fun with the new 'Weigh Your Bricks' machine.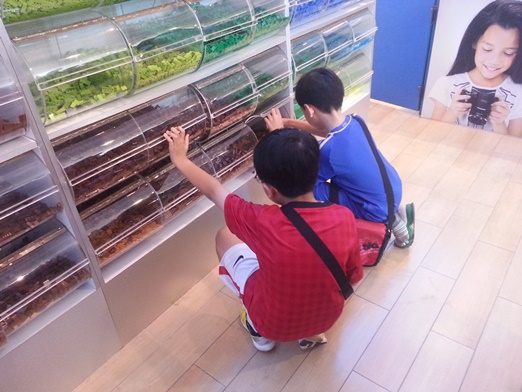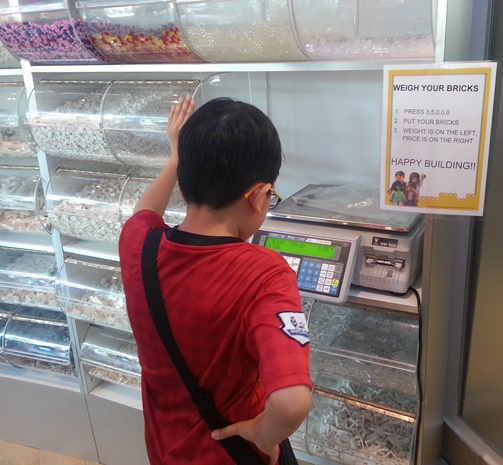 Suddenly, Kitkit shoved his plastic bag of 1/10-filled Lego Bricks to my tummy and said in a haste: "TAKE FOR ME!" and he went out of the shop with Allan, heading towards the direction of the toilet.
I thought it was a sudden urgency to pee or poo, so I did not bother, but continued to stay in the shop with Binbin, who was still busy choosing his 'coconut trees' Lego Bricks.
After some time, Binbin asked: "Where is Gorgor? Why is he gone for so long?"
Me: "I think he went to the toilet."
Binbin: "To poo, is it? So long!"
Me: "I think so too."
A couple of minutes later, we still do not see him, nor Allan coming back.
Binbin: "Poo so long one meh?"
Me: *shrugged*
Just when the two of us started to get really worried, they came back and Kitkit was pretty pale.
He walked up to me and reported: "I vomited."
Me: "Oh no! Are you feeling better now?"
Kitkit: "A little better."
Me: "Then shall we go home now?"
Kitkit: "I still want to choose my Lego bricks."
Me: "Ok, so after this, I will get you something to drink first, then we will go home."
Allan: "I told him that he cannot play any rides. You go ahead with Binbin."
Ohhhhhh….. at that moment I looked at the disappointed faces.
Kitkit was disappointed that he cannot take any rides.
Binbin was disappointed that (because of his brother) he MAY not be able to take any rides too.
I was in a dilemma.
I knew it was unfair to Binbin, who had been looking forward to this day.
Yet, I think Kitkit would feel terribly jealous to sit on the bench and watch his brother having fun with his mummy.
Hhhmmm….
Torn between the two!  *scream*
Shopping was completed in the next few minutes and we headed to the kiosk to get a drink for Kitkit.
He looked so much better after filling up this tummy with the beverage.
Allan signaled me to go ahead with Binbin for the rides.
In the end, I chose to make Binbin happy.
*sigh*
Sorry Kitkit.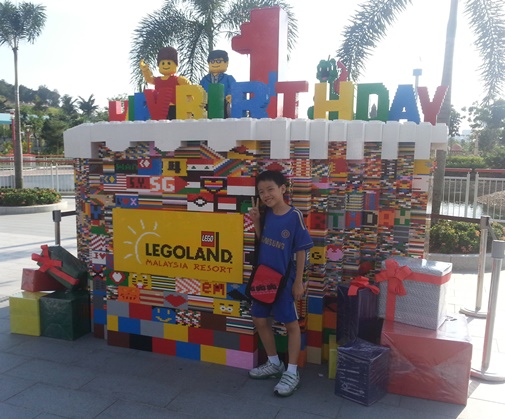 The rides were so empty, we were the 1st or 2nd passengers for every ride that we chose.
The rides we took in that 1 hour plus includes :~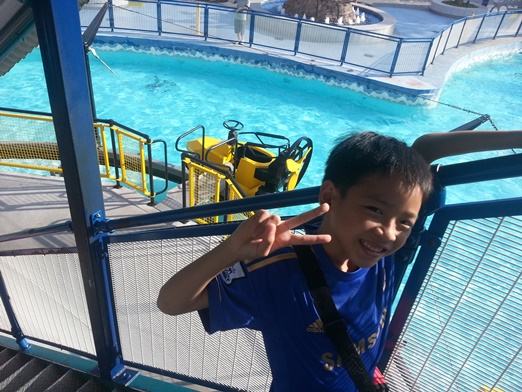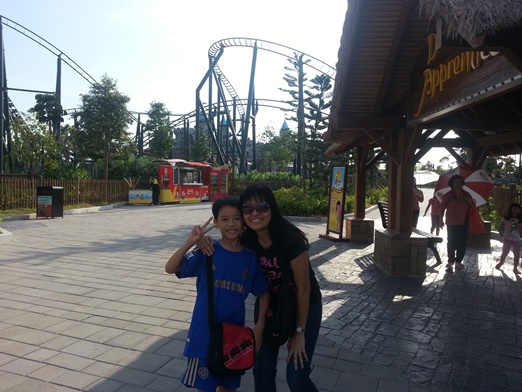 We intended to go for the 'Dragon', but it was closed for 15mins, so we took the 'Smaller Dragon' for the very first time! And to our surprise, it actually went 3 times in a row before the ride FINALLY comes to a complete stop!!! What fun!!! *laugh*
This day was also Binbin's very first time on the 'Royal Joust' :~
He actually liked it!
He went twice without getting off the 'horse'.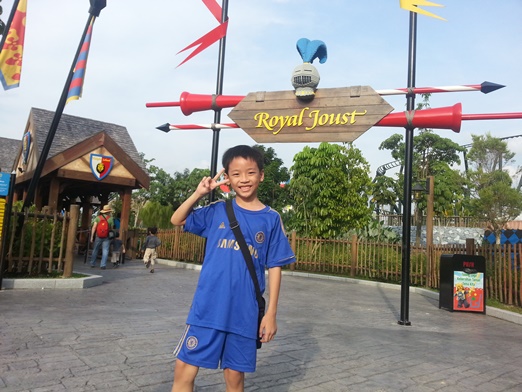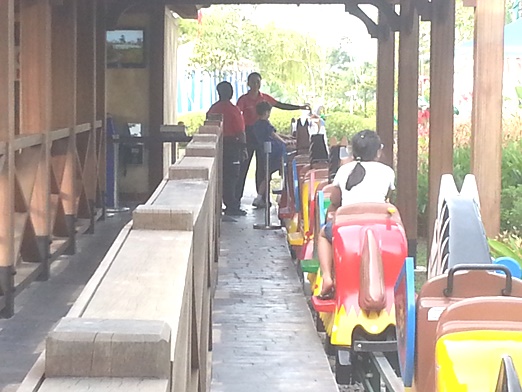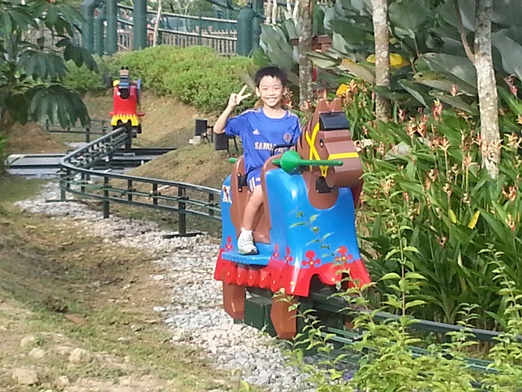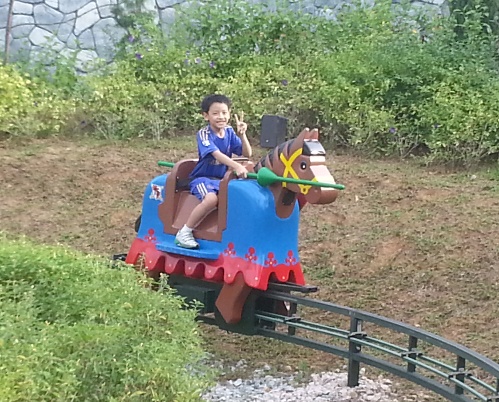 Then he wanted to go for the ride which made me giddy during our 3rd visit to Legoland Malaysia, so I told Allan to go with Binbin instead, while I took a rest and sat with my elder son on the bench.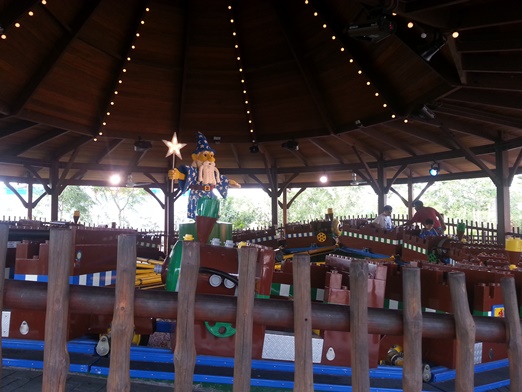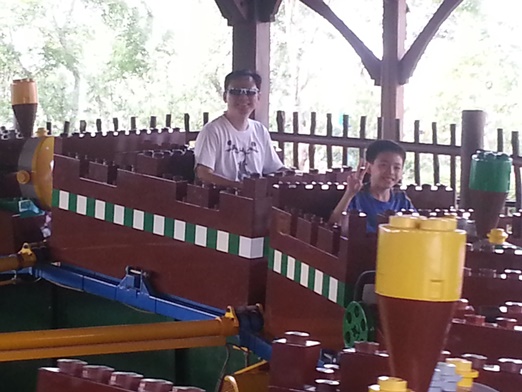 Whenever they pass by us (Kitkit and I), Kitkit would not fail to give a small wave back to them, even though his face was filled with sadness.
Can you spot his small little wave in the photo below?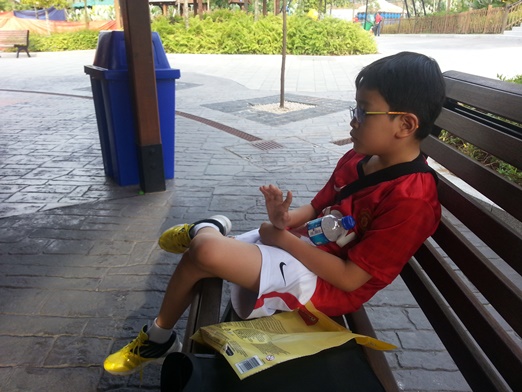 Kitkit was so understanding.
We had a little chat while Binbin was going round and round with his Papa on that ride.
He knew that it would be unfair to Binbin if we were to go home because of his unfit body.
Yet, he emphasized that he was still very sad that it turned out this way for him today.
After the many rounds on that ride, Binbin and I decided to get REALLY WET for our last ride.
We were sitting at the 2nd last row in the video below….
We were TOTALLY SOAKED THROUGH!!!
And I do mean TOTALLY!!!
INSIDE OUT!
We were so wet, that after we got off the ride, a grandpa pushing a pram walked towards me and asked as he giggled: "You just had a bathe?"
He probably saw how we 'showered' when our boat crashed into the waters….
Binbin and I were literally DRIPPING wet!!!
We did not want to wet our car, so we opt for the body dryer and to our surprise, the fee to operate the big machine has increased to RM10!
Go read our first visit to Legoland Malaysia, "Legoland Malaysia – First Visit", this machine only cost RM5 to operate back then!!!
A 100% increase after 1 year only!
*jaws dropped*
This was NOT the only thing which made our jaws dropped.
A mother told her two daughters to join us in the body dryer AFTER we had put in the RM10 and the machine had started blowing hot air at Binbin and I!
This mother even ATTEMPTED to step into that small space too.
I turned and told her nicely: "Please wait for the next turn."
Unbelievably, she told her daughters to stay and she walked away!
*eyes popped*
It would be very horrible for me (in my opinion) to tell the two girls to step out of the machine.
Firstly, the girls do not speak English.
Secondly, they were still children and were just being good daughters by listening to their mother's instructions.
So how could I ask them to leave?
*scream*
I just could not get myself to do it, even though I REALLY wanted them to step off!!!!!
The girls were aggressive compared to Binbin.
They step further in every other seconds, towards the spot where the hot air was more direct.
My kind Binbin moved away to give them space and then told me, "I don't get any wind here."
Without touching the girls at all, I positioned Binbin back to his original spot and I told him, "Stay at this spot and you will get the direct hot air." The girls had no choice but to go back to the spot which had little wind.
And the two of us had our feet grounded to the floor of the machine till the last 'breath' of the machine was exhaled.
The girls hopped off and wanted to go to the other machine which was still 'heating' up other drenched souls….well, I did not bother to see if they were successful in their attempts or not. We just walked off, without turning our heads.
So many things have changed since our first visit to Legoland Malaysia September last year.
In fact, not only the price of the body dryer fee has changed since our first visit there.
The parking fee is one of them too!
It used to be FREE PARKING!!!!
Now, the rates has gone from Free to Not-Free during our 4th visit to the current revised Parking charges shown below :~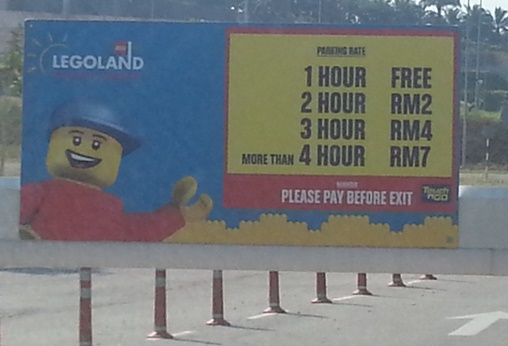 Though we did get a shock when we found out that parking was no longer free during our 4th visit to Legoland Malaysia, it still ended well when we found out that Annual Pass Holders, a.k.a US, can claim for FREE parking at the customer service room before we leave Legoland.
So in the end, no sweat!
*Thumbs up* for being Annual Pass Holders!
Nonetheless, this day had been a thumbs-down day for Kitkit, who vomited for no obvious reasons, who could not get on any rides, who could not find a MU jersey of his size after we tried to go to a recommended place, hoping to cheer him up a little; and who could not even put on a smile when we took him to his favourite dinning place for dinner.
*sigh*
Its going to be a doctor-cum-medicine weekend for him and as a result, I doubt he would be able to go for his Soccer Friendly Match this Sunday; something which he had been talking about for weeks!
*double sadness*
Now, I am crossing my fingers and toes, hoping that he would be well by Monday, when he is supposed to have his English Oral Examination……..



Legoland Malaysia – Sixth Visit
Copyright © 2007-2016 All About Your Child. The contents on this blog are the sole property of the author, Angeline Foong, and may not be used or reproduced in any manner without consent. All Rights Reserved.
No Comments »