Handicraft for kids, Places Kids Love
November 19th, 2012
After reading my previous two blog posts, did you think that all the Angry Birds theme Christmas fun are just happening at Changi Airport Terminal 3, Level 2, Departure hall only?
Nooooo…..
Angry Birds™ come to life at Terminal 3 Basement 2 (12noon to 10pm daily).
Your child can indulge in games and activities and stand chances to win exclusive souvenirs, with no minimum spend.
Take the lift which is nearer to Terminal 3's Departure Check-in Row 4 down to Basement 2. The moment you come out from the lift, you would be greeted by a colourfully decorated Angry Birds Christmas Workshop area.
It is directly opposite the Kopi Foodcourt fruit stall.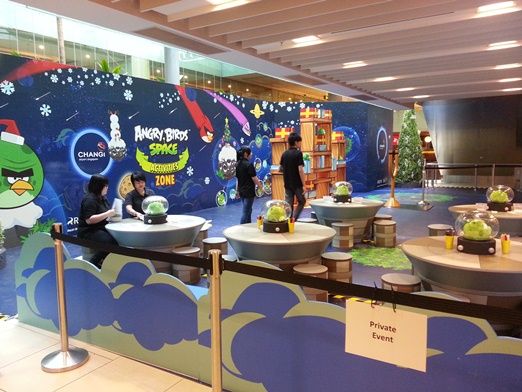 When Kitkit saw the sign saying 'Private Event', he asked: "Are we VIPs?"
I smiled and nodded.
"Cool! We are VIPs! Yeah!" he cheered.
Thank you sponsors for making this possible. *hugs*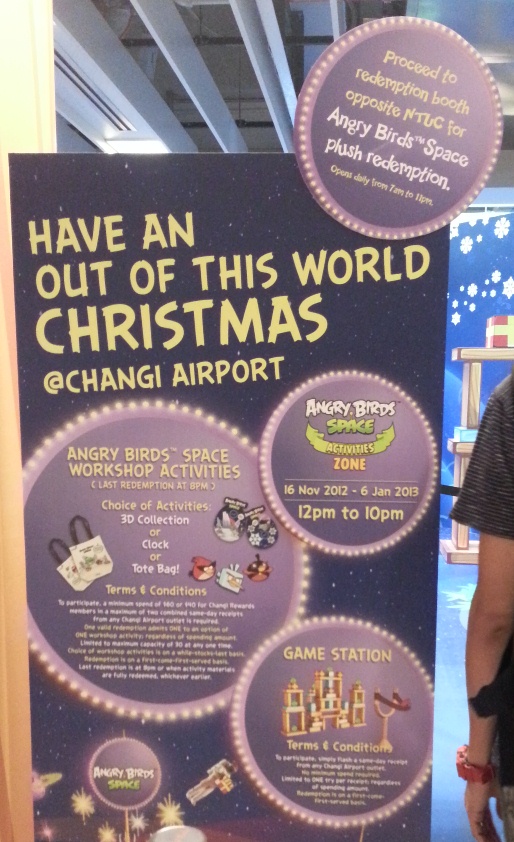 In this workshop area, which opens daily from 12pm to 10pm, from 16 November 2012 to 6 January 2013, your child can make his or her very own
Angry Birds™ Space 3D pop up picture
Angry Birds™ Space clock,

or

Angry Birds™ Space Tote Bag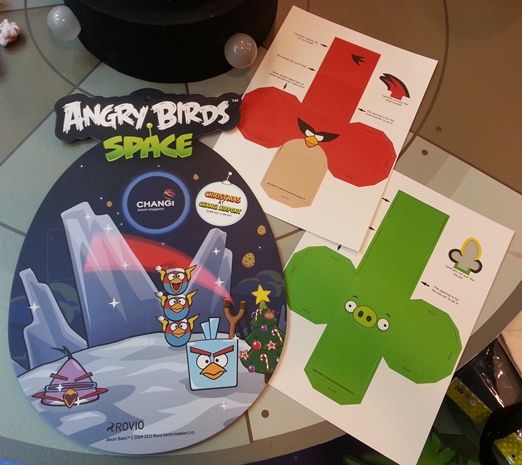 My boys were least interested in the Angry Birds™ Space 3D pop up picture above because they had done it before back in July 2012. Remember? They made it for their Ah Yee on her birthday? See post "Happy Birthday Ah Yee"
However, they were extremely eager to make their very own Angry Birds™ Space clock to hang in their new bedroom next month.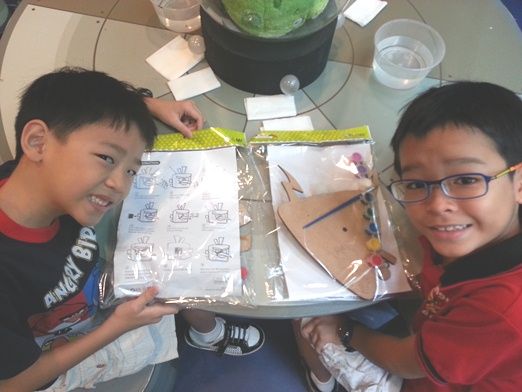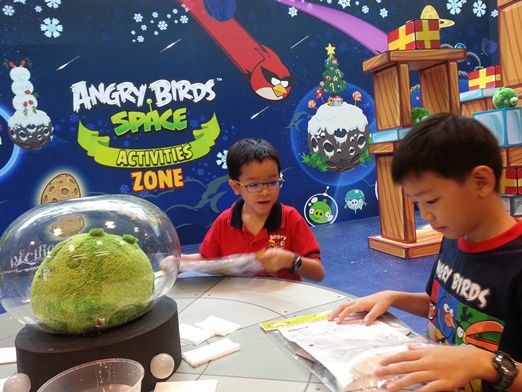 It was great to see helpful assistants around to give the kids some guidance when they were doing their handicraft.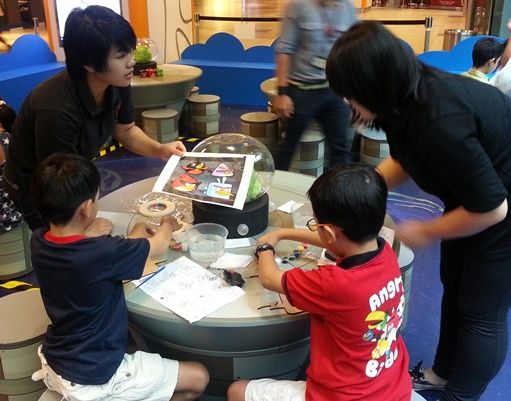 Thanks to the sponsor, they also had a chance to bring the simple black and white Angry Birds Tote Bag back to life with beautiful colours!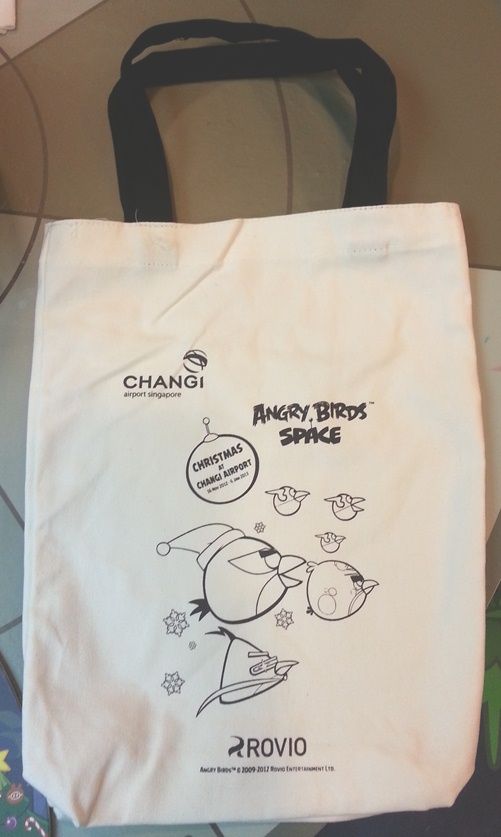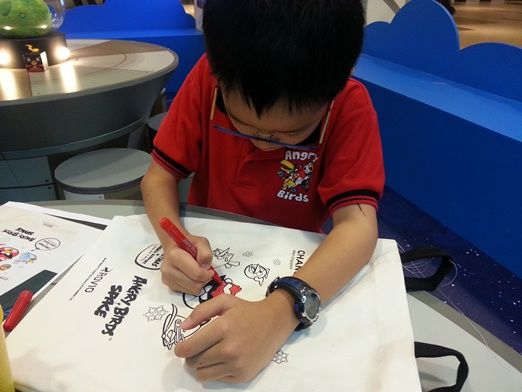 Just spend a minimum of $60 (or $40 for Changi Rewards members) in a maximum of two combined same-day receipts for one redemption. Each redemption admits 1 child (age 3 to 12) to a choice of 1 workshop activity. Last redemption is at 8pm.
The seating is limited to a maximum capacity of 30 at any one time and the choice of workshop activity is on a while-stock-last basis. So hurry down to Changi Airport Terminal basement 2 early before your choice runs out of stock!
===
While waiting for their Angry Birds™ Space clock's paint to dry, Kitkit and Binbin had a go in shooting the pigs down with the red Angry Bird on the gigantic catapult.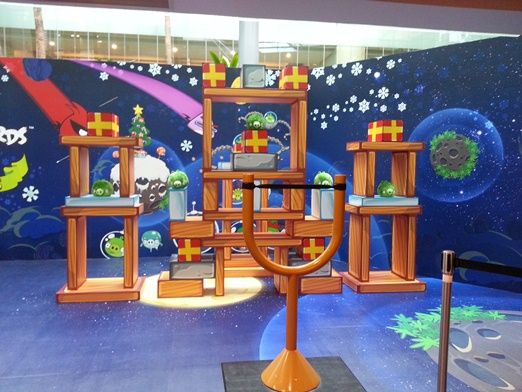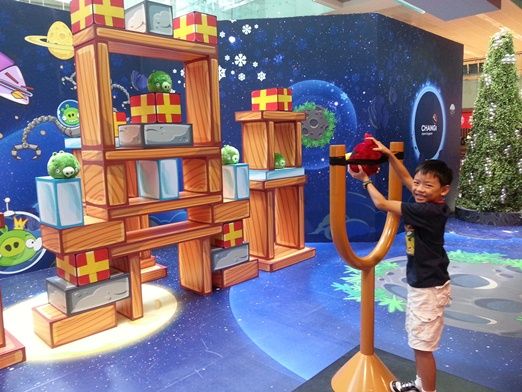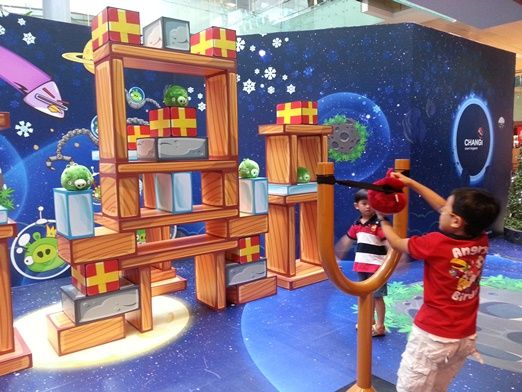 To participate at this game station, simply present a same-day receipt from any Changi Airport outlet to join in the fun. No minimum spending required. Limited to ONE try per entry, regardless of spending amount.
=====
Leading up to Christmas Day, there will also be performers roaming the terminals on a buggy dressed up like a sleigh with familiar Christmas tunes. So soak yourself in this festive mood on 14-16 December and 21-25 December with these musical performances.
Its school holidays.
Its raining season.
With so much happening here, wouldn't you want to bring your active kids to have a day of fun under shelter, protected from the rain, in Changi Airport Terminal 3?
Don't forget about the Animated Photos and the Gigantic Space Craft, read post "Out of This World Christmas at Changi Airport"
And the Angry Birds Space Lounge, perfect for your active children, read post "Angry Birds Indoor Activity Lounge at Changi Airport this Christmas"
Once again, I want to thank Changi Airport Group for giving us this opportunity and making my boys so happy. *hugs*
 Angry Birds Christmas Workshop at Changi Airport
Leave a Reply