Child, Health, Parenting, Toddler
October 21st, 2008
First, it was Keatkeat with Bronchitis, then both boys were down with Hives…. and as I was taking care of my hives babies when it first struck them in April, I got so sick that I was bedridden with Glandular fever.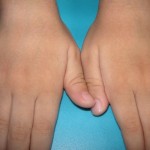 Now this!!?
Could this have been prevented? No! How sad. The cause of atopic eczema is not fully known. However, it was known that genes play an important part as atopic eczema often runs in families. But no one from Allan's nor my family or our ancestors had this! It could also be due to food allergies, but he did a test before and it was proven that he is NOT allergic to any food…
So who was the lucky one this time? BINBIN! Yes, my 3year old has mild Atopic Eczema.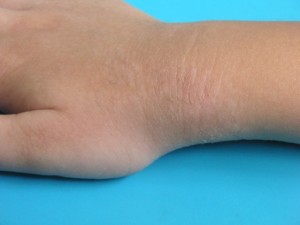 Its been a year…I've kept my silence. Went to polyclinic twice. But I wasn't comfortable being shoved off with just a tube of $0.80 Aqueous Cream Moisturizer every time.
I don't want to accept that. I needed a second opinion and I demanded for a referral letter to National Skin Centre. Yes, the expensive one, the specialised one, the one employer which my Dad last took his salary (as a Pharmacist) from before he passed away.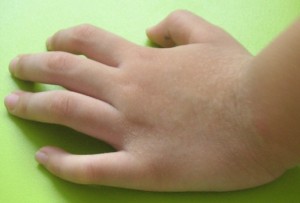 With the referral letter, instead of paying $60+, I paid $20+. Its a great place, you are offered free packet drinks almost at every counter, very comforting with nice landscape structures except for certain levels where its FORBIDDEN because it was the leprosy units.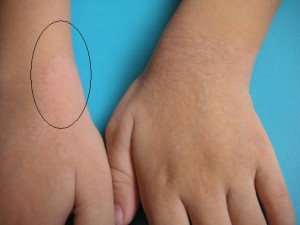 Yes, it was one year ago, it started with the wrist area. Sometimes it peels off like a snake shedding its skin. Sometimes its just tiny pieces of skin standing up, waiting for its chance to fall off. Is it itchy? According to my 3 year old, sometimes. I noticed that he HARDLY scratch unless he is 'sweating like sweat-ducks' (Keatkeat's style of description).
From the wrist, it 'peeled' to the finger tips. Now the affected areas have increased. It has gone to the elbow and the inner-side of the elbow. Instead of on the left and its on the right too.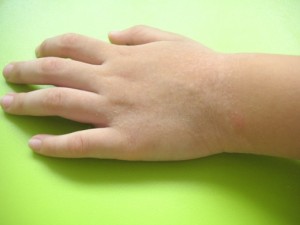 It peels and reveals the pinkish baby skin, leaving unsightly patches, as it contrast with the tan colour of the unpeeled areas of the active boy.
This time, Binbin was given the Aqueous Cream again but no longer in tube, its a container! On top of that, Desonwen Lotion, the stronger medicine, was given too, the damage for both were $20.15.
Spending almost $50 today and yet the verdict is still the same as those General Practitioners have said in the Polyclinic, where I just need to spend less than $10 for EVERYTHING. Paying $40 more with the same conclusion was painful….but then again, at least I got ONE additional medicine which the Polyclinic didn't give during my previous 2 visits…that's the only thing that make my heart feels good now….*sigh*


18 Responses to "Atopic Eczema"
Leave a Reply